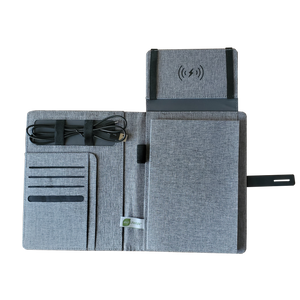 September Spotlight Item
Great for on the go! This small padfolio features a small replaceable notebook, pen loop, card slots and a micro USB cord. The cord can be plugged into a power source to utilize the wireless charging pad.
View Item
Special Packaing
Did you know we provide kitting services? We can create a custom bundle, ready for you to hand out at events. We can special package items with gift wrap and even include labels for easy distribution. Contact our special orders team to ask about how we can package your order today!
800.426.2623 x 12
Shipping & Returns
We make it our business to ship your order within 2-4 weeks using the most efficient method. Hawaii, Alaska and other countries shipping rates will be quoted and paid separately using invoice drafts. Due to the secure checkout all charges must be paid by customers, as we cannot charge your card.  Shipping charges only cover 1 location shipping. Backorders and split ships may incur additional charges.
If you need your merchandise for an event, please put the event date in the order notes at checkout. Rush charges will apply if needed to ship within 5 business days from the day the order is placed. Not available on International orders. Returns will be not be accepted as of June 17, 2020.
Send us your logo
Need to send us art? Use our Submit Artwork option to send us the file or leave us a note on a new project you would like quoted.
Submit Artwork